TRADITION & VISIONARY SPIRIT
ROAMER OF SWITZERLAND has been synonymous with high-quality Swiss watches in combination with classically elegant designs since 1888. The brand steadily continues its success story with ongoing innovations, excellent materials, exquisite craftsmanship and precise Swiss movements. Perfect attention to detail and an exceptional & personal commitment makes ROAMER's timepieces truly unique.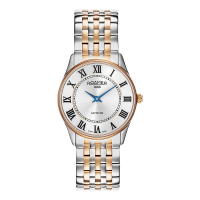 Roamer Ladies Two Tone Rose & Steel White Dial Sonata Bracelet Watch 520820-49-15-50SONATA520820..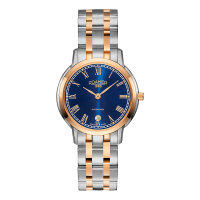 SUPERSLENDER LADIES515811 49 42 50CASE SIZE29.0 mmGLASSAnti-reflection Sapphire crystalSTRAPStainles..